EXHIBITION
11th March – 19th March
opening on Friday, 10th March, from 7PM
at erstererster – Pappelallee 69, 10437 Berlin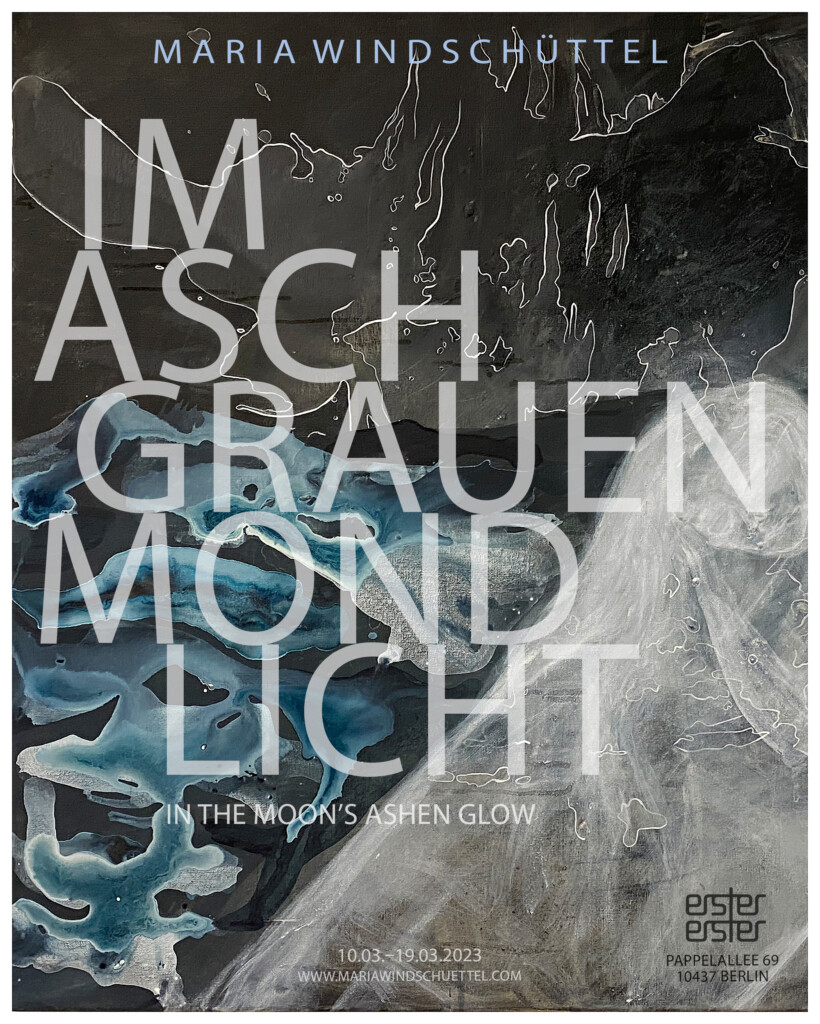 ENGLISH accompanying text (deutsche Version unten)
IM ASCHGRAUEN MONDLICHT (in the moon's ashen glow)

Maria Windschüttel is an artist with a passion for adventure and freedom, who draws inspiration from the strength and autonomy that she finds in isolated places of vast grandeur, and natural beauty.  
Born in Dresden, and studied in Hamburg and Helsinki, Windschüttel has made repeated retreats to the Norwegian Arctic, the Åland Islands and throughout Finland during these past 10 years, to create an extensive body of work – of which, a small sample is being shared for this exhibition. 
In drawings, self-portrait photography, mixed-media, and landscape installations, Windschüttel engages with the constraints of self and relationships between human and nature. A quest to be left fully alone, without gaze or interruption, and draped in the sublimity and Romanticism of wilderness. The artist is seeking liberation from external pressures and prejudices to then manifest new myths and identities. On mountains and by seascapes, she memorializes these intimate engagements and the hours spent through photo and documentation. Framing herself as a subject among scenery, the artist lets go as she feels – with expression, movement, and a feminine style she directs with gratitude towards the interplay of light, weather, and terrain – trusting her camera might capture a moment; but with no regrets should it fail.
In Berlin, where she is based, Windschüttel is a painter. Emotion and expressive gestures shape the collection of her figurative images, which often begin by random gradients of diluted paint mixtures. In intuitive frenzies of acrylics and oil pastels, characters and signs of seemingly offbeat fables then emerge.
This delight in intemperance can also be found in the artist's drawings, with line work that is both rough and delicate. New sculptural pieces with glass and wood are extending Windschüttel's catalogue.  
In Maria Windschüttel's oeuvre different media are unified by a variety of related (or reoccurring) icons, themes, and narratives – a multifaceted compilation from a distinctly spirited artist. Within this body of work a multidimensional, poetic world emerges that pushes deeply and demands a lot: devotion, longing, courage, in the moon's ashen glow.

– T. Wood
---
DEUTSCH Begleittext
IM ASCHGRAUEN MONDLICHT (in the moon's ashen glow)
Maria Windschüttel ist eine Künstlerin mit einer aufrichtigen Leidenschaft für Abenteuer und Freiheit, die sich von der Stärke und Autonomie inspirieren lässt, die sie an abgelegenen Orten von gewaltiger Pracht und natürlicher Schönheit findet.
Die in Dresden geborene und in Hamburg und Helsinki studierte Künstlerin hat sich in den letzten zehn Jahren wiederholt in die norwegische Arktis, auf den Åland-Inseln und an Küsten Finnlands zurückgezogen, um ein umfangreiches Werk zu schaffen, das zu kleinen Teilen in dieser Ausstellung gezeigt wird.
In Zeichnungen, Selbstporträts, Mixed-Media-Arbeiten und Landschaftsinstallationen setzt sich Windschüttel mit den Beschränkungen des Selbst und den Beziehungen zwischen Mensch und Natur auseinander: Ein Streben nach völliger Abgeschiedenheit, ohne fremde Blicke und Störungen, eingehüllt in die Erhabenheit und Romantik der Wildnis.
Die Künstlerin sucht die Befreiung von äußeren Zwängen und Voreingenommenheiten, um alsdann neue Mythen und Identitäten manifestieren zu können. Auf Bergen und am Meer setzt sie mit Fotografie und Dokumentation ein Denkmal für diese innigen Rendevouz und die damit verbrachten Stunden. 
Windschüttel rahmt sich dabei selbst als Subjekt inmitten von Landschaften und ergibt sich ihrem Gefühl – mit Ausdruck, Bewegung und einem femininen Stil, die sie mit Dankbarkeit für das Zusammenspiel von Licht, Wetter und Gelände dirigiert und immer im Vertrauen darauf, dass ihre Kamera einen Moment festhalten wird, ohne Ehrfurcht vor dem Scheitern.
In Berlin, wo sie lebt, ist Maria Windschüttel Malerin. Emotion und ausdrucksstarke Gesten prägen die Sammlung ihrer figurativen Gemälde, die ihren Anfang oft in zufälligen verwässerten Farbverläufen haben. Im intuitiven Rausch von Acrylfarben und Ölpastellen erscheinen Charaktere und Symbole aus schier seltsamen Fabeln.
Diese Freude an Ausschweifung, die Windschüttel in ihrer Malerei zeigen kann, findet sich auch in den grafischen Arbeiten der freischaffenden Künstlerin. In ihrer Linienführung schwanken ihre Zeichnungen zwischen gewaltvoll und zart.
Neue skulpturale Arbeiten mit Glas und Holz erweitern Windschüttels Katalog. 

In Maria Windschüttels Oeuvre werden verschiedene Medien durch eine Vielzahl verwandter (oder wiederkehrender) Ikonen, Themen und Narrative vereint – eine facettenreiche Zusammenstellung einer kühnen, lebensvollen Künstlerin.
Im Gesamtwerk entsteht eine multidimensionale, poetische Welt, die tief drängt und viel verlangt: Hingabe, Sehnsucht, Mut, im aschgrauen Mondlicht.