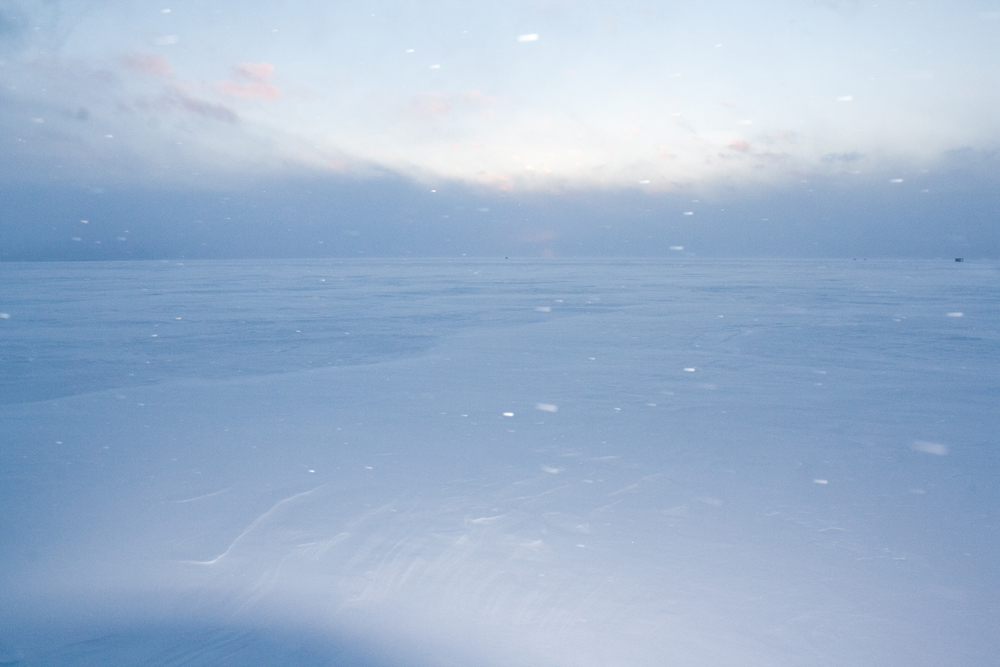 Lake Nipissing is the 5th biggest lake in Ontario. That might sound more impressive when you know there are approximately 250.000 lakes in that whole blue province of Canada, around 4.000 of them bigger than 3 km². The great and rich Lake Nipissing has a Vortex and grows a pretty big layer of ice during the long, long winter.
We visited to break that "hard water"..
Naturally I feel attracted to dark and cold places. Passing "Black Bay" on the way to "North Bay" made me giggly. After six hours driving the sweet white vast of Lake Nipissing appeared in golden sunset light. No way to decide which setting of all was the nicest, though.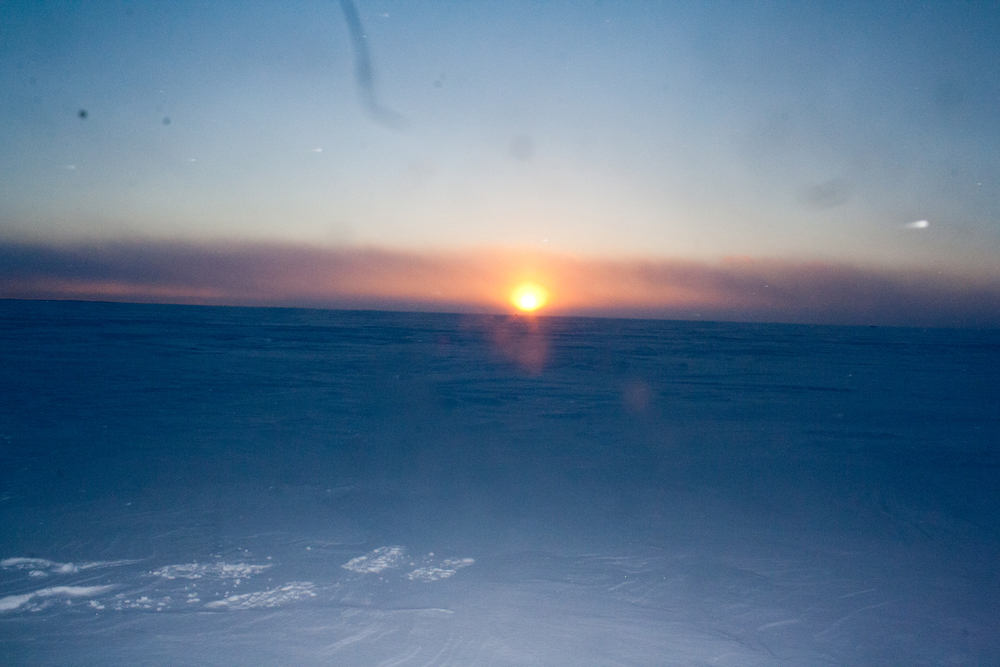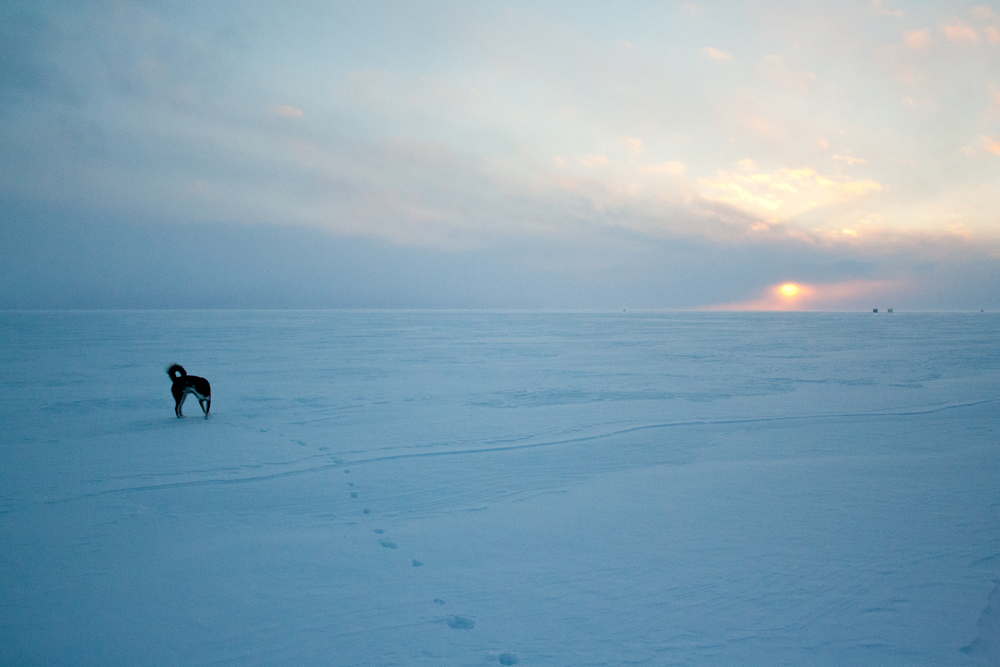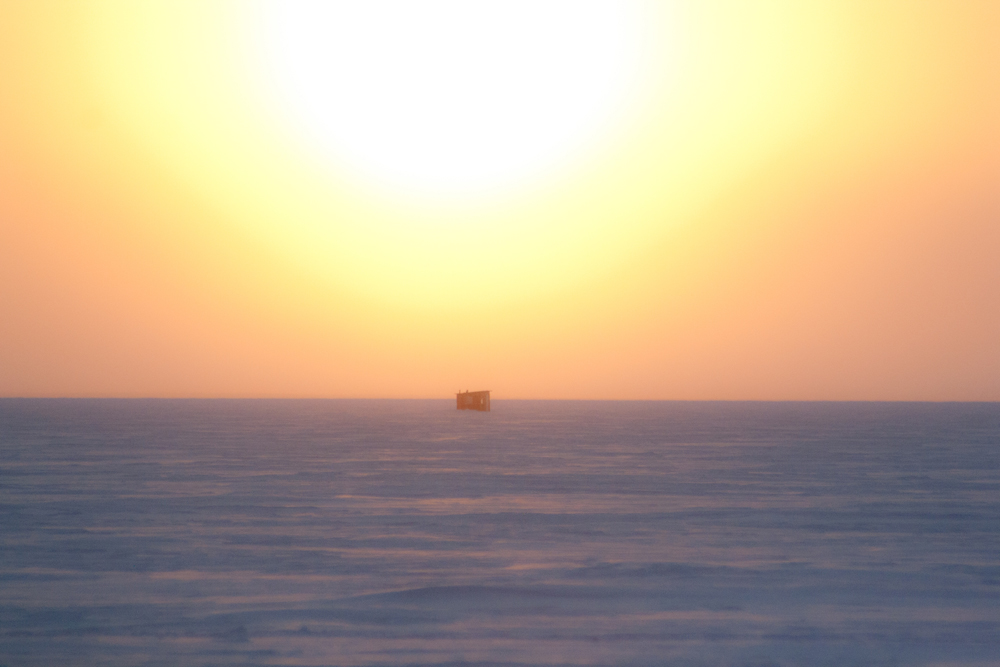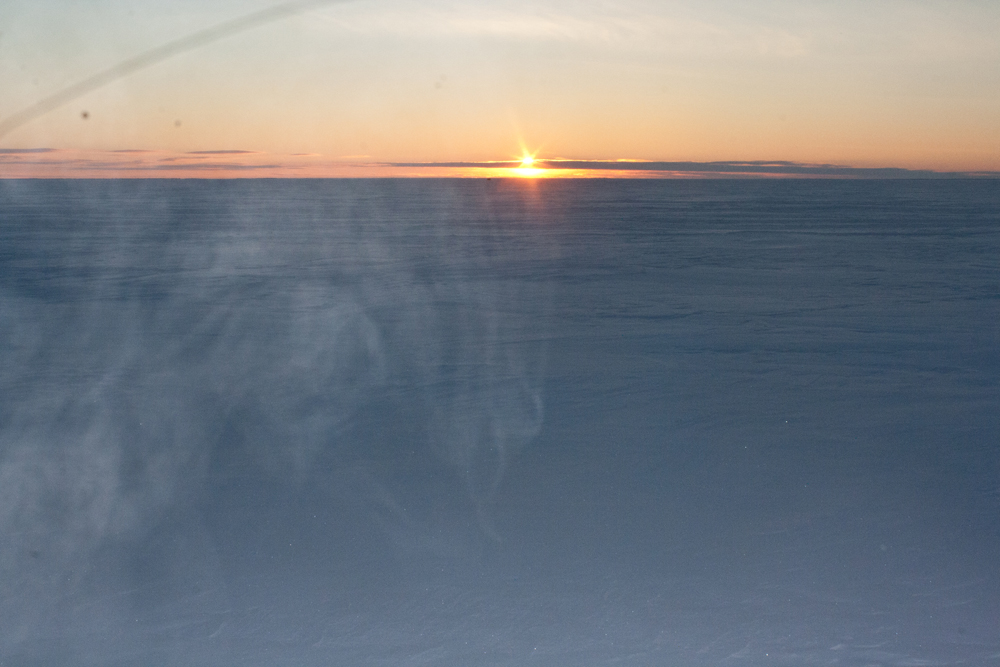 Day 1
Lake Nipissing is not a complete whiteout: Widespread over its frozen surface you see many tiny fish huts. These little cozy looking houses mostly have stoves and some even beds. I felt a bit dizzy about the weird ways ambition can take you when I was told about some huts even having a TV – this seems like questionable fishing de luxe (but where actually is the sauna?).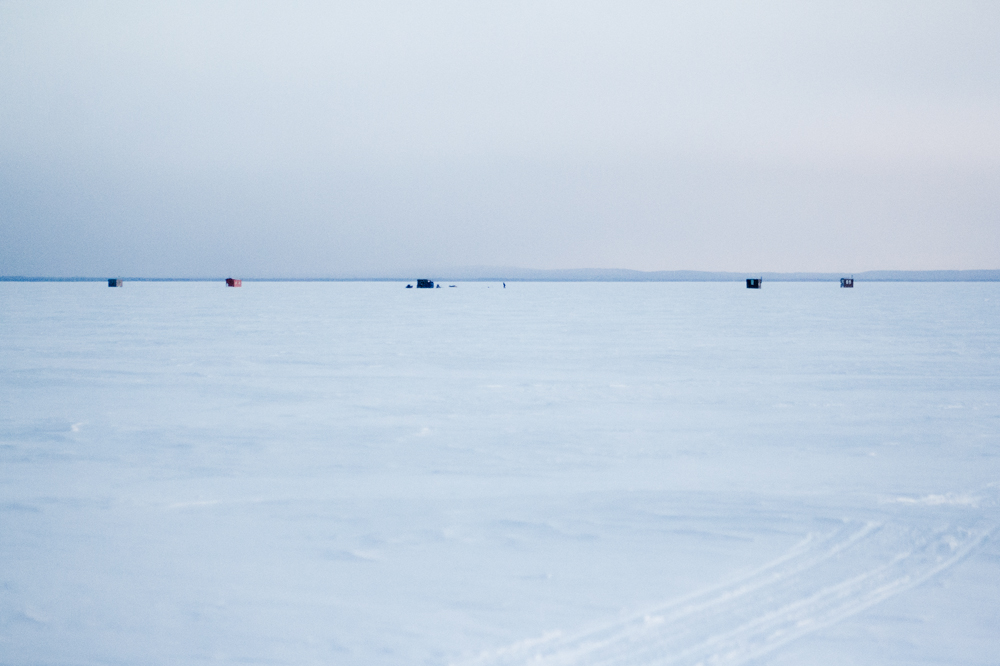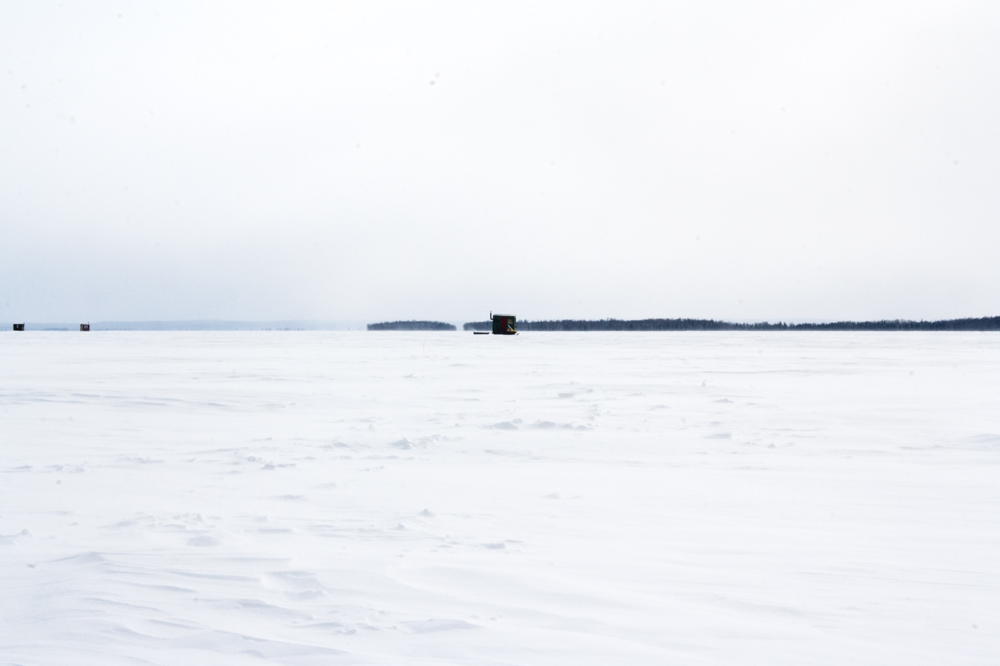 Instead of wooden comfort we had a big tent to build up and, yes, that was quite hard work to do in -33°C weather conditions. But the sun was shining on a blue sky and I was growing a hope to see some aurora borealis later the day.
Drilling the fishing hole in the about two feet thick ice was my favourite task of the day. It took me a while, but eventually I cut my very own bluish gleaming hole in that hard water. The coffee flavoured baits on my hook wouldn't work for the whole day, though.
You get sort of a fever on the ice. Maybe it's the cold freezing your mind off, maybe it's all the cinnamon whisky and the last drops of the good old Minttu you sip like holy tear drops. After six hours I felt quite insane on the way back through the icy snow, under the weird wide light from space.

Day 2
After a heavily cold night the inside of the tent looked like a crystal palace.
I caught three beautiful and very tasty yellow perches that day. That was not really necessary to happen for my enjoyment, but sort of fulfilled the adventure.
Also it was milder today (-20°C) so I was able to get off my huge borrowed snow suit, jump in my little velvet dress and grab my camera for a quick shooting in the stunning light of the next lovely sunset. There are more results to follow for sure.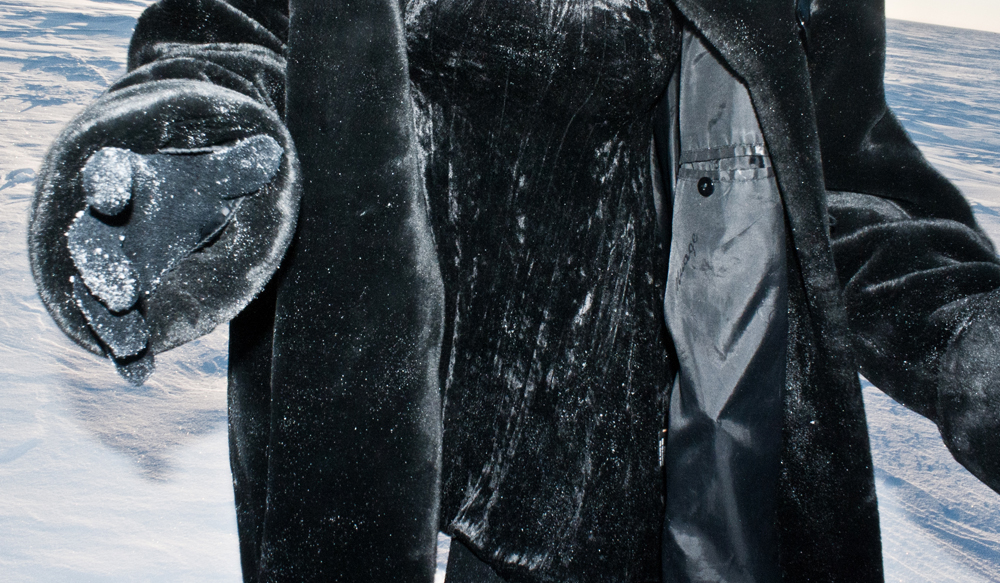 We left the tent in the dark.
It'll stand on the silent lake for a few more weeks, giving shelter to other ice anglers.
By the way: The right-handed hole at the north side is haunted.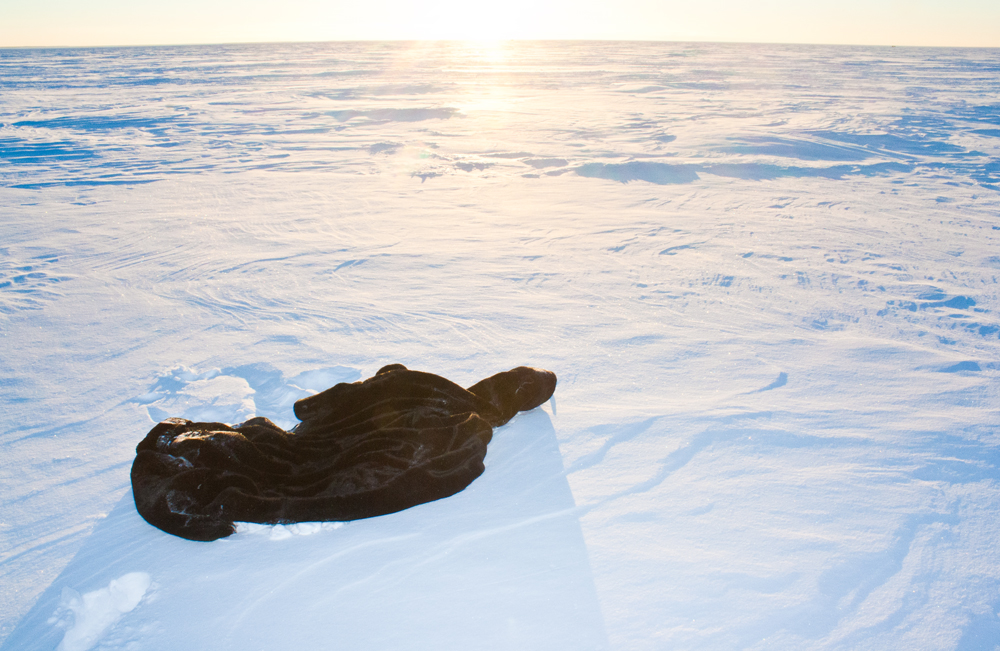 Post scriptum: Erik with a Finnish surname was not only a great host but also our fishing and filleting guide. Have an eye on his funny little fishing show 4 Eel Fishing!